Reporting data from vending machines is quite a challenge. The multitude of options, the lack of technical facilities as well as the lack of knowledge of the possibilities of modern data management means that most OHS companies only use tools that are provided by vending machine manufacturers themselves. Consequently, the delivered solution works with limited potential and reduced value.
Often, after implementation, the machines work properly, but the horror of the report begins. Data from machines comes with a month's delay in the form of files that contain thousands of records and are very difficult to analyse. Lack of online access to data means that customers do not have an insight into the use of the machine, which causes excessive downloads and generates an increase in costs instead of lowering costs! A solution of this type is the use of more advanced BI analysis tools that we provide to and for the needs of our clients.
Are you looking for a vending machine, but are you afraid that its operation and reporting is complicated and requires the participation of IT specialists?
We have created a proprietary Business Intelligence solution just for you. Many years of experience and knowledge have allowed us to create a unique SMART DEPOT BI solution, i.e. a Central Database system combined with Business Intelligence tools based on generally available Microsoft Power BI tools.
SMART DEPOT BI means:
Central database powered directly from the vending machines,
Reporting based on any rules in accordance with the requirements of our clients,
Generating batch files for ERP class systems,
Online visualisations and analyses,
Control mechanisms and detection of irregularities,
Automatic reporting after closing of collection periods.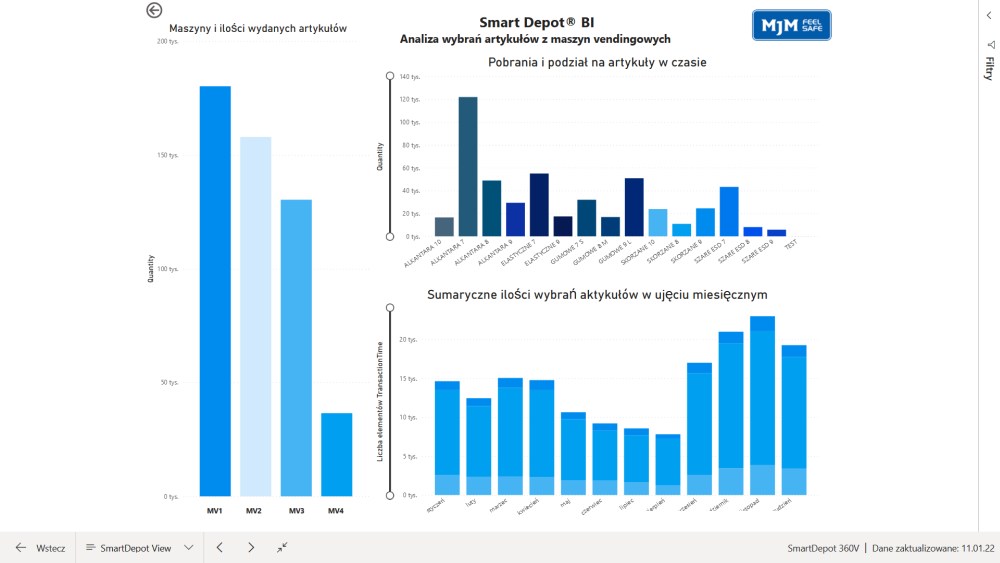 Who is the Smart Depot BI tool for?
Smart Depot BI is aimed at people supervising and analysing releases from vending machines and taking care of the company's costs.
Other departments will also benefit from it:
OHS – in terms of verifying whether the employee takes appropriate Personal Protective Equipment, the data is available online, so we receive information immediately. Searching does not require any additional work from the IT department. If an accident occurs, the verification that the employee uses appropriate protective measures is immediate.
Controlling – in the field of aggregate data presentation, trend tracking, finding irregularities in consumption, etc., all using BIG Data mechanisms. Power BI provides views and dashboards ready for presentation for managerial staff and company boards.
Purchases – in terms of verification of the current consumption required for the approval of purchase invoices and the allocation of costs to individual cost centres.
What will you get by using Smart Depot BI?
Access to data in a visualisation format, quick analysis, detection of irregularities. You can share your reports with other team members by creating summaries with one click. Save your time!
Where can I use the reports?
Reports are the basis for invoicing, so you keep track of your costs. Split reports into Cost Centres and automatically split costs into departments without additional work in a spreadsheet. Assign control competences to foremen and forewomen, and managers – give them access to data narrowed down to specific areas or departments or even employees. From the company's position, you can control limits, selections and react to excessive use of health and safety measures. In the event of an accident, check with one click whether the employee has collected health and safety measures. Report to managers in the form of transparent data visualisations.